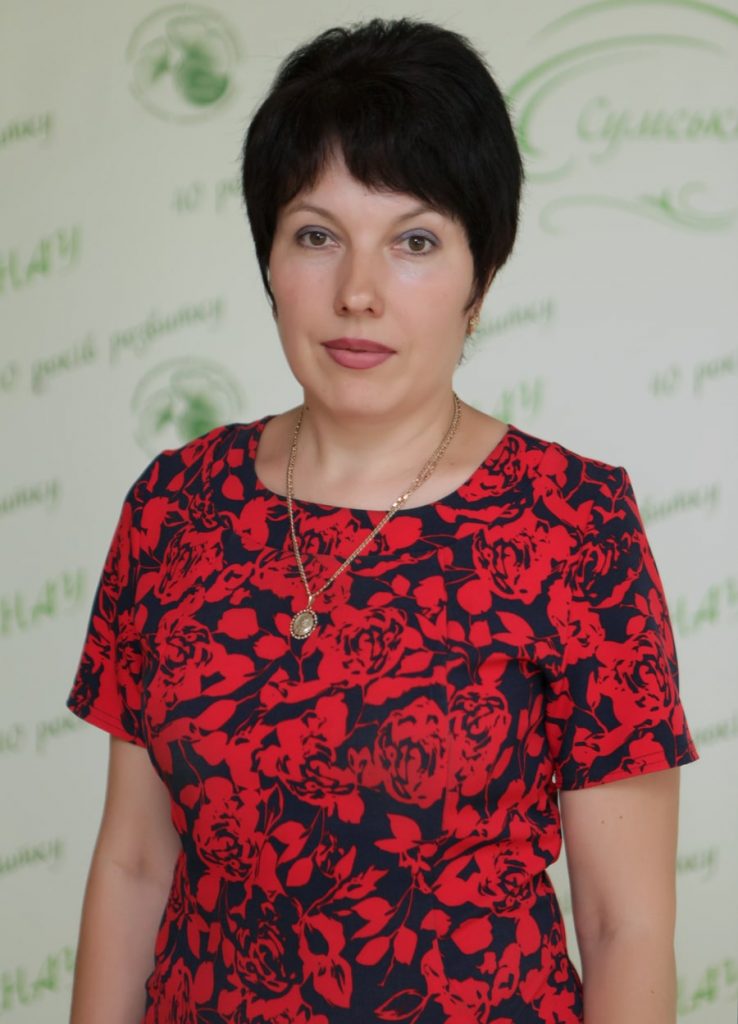 Director of the Department
She was born on October 14, 1978 in the village of Chervone, Sumy district, Sumy region. In 2002 she graduated from Sumy National Agrarian University with a degree in Management of Organizations and received the qualification of an Economic Organizer.
She has been working at the university since October 15, 1995, at the Academic Department- since April 4, 1996, as the Director of the Department - since July 1, 2002.
Main directions of the activity are:
1.Supervises and coordinates the work of the Academic Department.
2.Ensures the activity:
on the formation of the teaching load of the departments of the university for the academic year, and the current control over the implementation of educational and methodological plans;
on establishing the curricula in subjects;
on drawing up schedules and timetables of training sessions, examination sessions, production and training practices, control over their execution by Dean's Offices;
on providing the departments with documentation on planning, accounting and reporting of educational activities;
on preparation of applications for strict accounting documents on graduation of students;
on the preparation of materials for statistical, annual and quarterly reports;
on establishing the students' base in the dean's program, on introducing the results of modules and attestations into the database.
Works out proposals for the establishment of the staff number of the teaching staff of the departments.
4.Controls the post-graduate and advanced training of the teaching staff.
Controls the timely delivery of curricula, work curricula, arrangement of practical training, plans of Dean's Offices activity, reports on the work done, reports of the SEC.
She deals with the proposals of Dean's Offices for the appointment of nominal scholarships.
6.Controls the timely filing and compliance with the requirements for proposals for the SEC chairmen appointment.
7.Draws up an hourly fund plan for the current year.
8.Controls graduation of bachelors, specialists, masters of faculties of full-time and part-time studies.
9.Organizes and controls the activity aimed at archiving the documents of the Academic Department and store the documentation at the Academic Department according to the File Register.
Controls the support of individual schedules for visiting lectures for full-time and part-time students.
Draws up plans of the Academic Department for the academic year.
Office Tel. Number (0542) 787-421 (120)