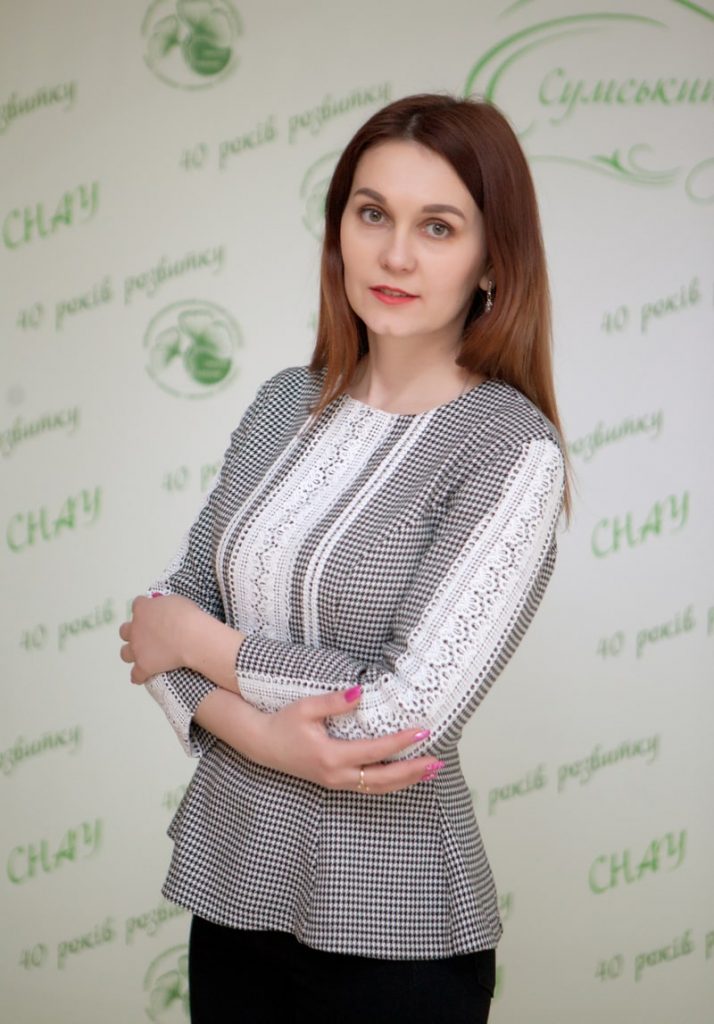 Practicing psychologist of the department for organizing educational activity with students of Sumy National Agrarian University
Born on August 23, 1989 in the village of Shaboltaiev, Okhtyrsky district, Sumy region.
In 2007, she graduated from Viazovka Secondary School.
In 2012 she graduated from Sumy State Pedagogical University named after A.S. Makarenko on specialty "Biology. Practical Psychology" and has got qualification of a teacher of biology, ecology and practical psychology in educational establishments.
In 2013 she graduated from Sumy Regional Institute of Postgraduate Teacher Education, majoring in Management of Educational Institutions.
She began her career in March 2012 as a practicing psychologist Kuzemynsk Educational District.
From November 2012 to the present time she has been working as a practicing psychologist of the department of educational activity with students of Sumy National Agrarian University.
She is a member of the Methodological Association of Practical Psychologists of HEE of III-IV accreditation level of Sumy.
In 2018, she was a participant of the Second All-Ukrainian Scientific and Practical Conference "Socio-pedagogical foundations of personality development in modern communication conditions: experience, problems, perspectives.
In 2018, she earned honorific mention for her support of the Joy. Job. Choice »Get the tools and build your future!».
She has certificates for participation in seminars and trainings, namely: "Media Literacy for Educators"; "Countering and Preventing Bullying (Harassment) in Educational Institutions"; "Conflict of interests: need to know!"; Czech Republic Development Cooperation - Certificate of Attendance has participated in a two-day workshop on the creation of a document defining the quality of teaching organized in the framework of the development project "Enhancement of Capacity Building Process in Quality of Education and Research at SNAU and SSU" ; Women and Men: Gender for All; "Psychology of stress and ways to deal with"; "Formation of treatment adherence in patients diagnosed with tuberculosis and the like.