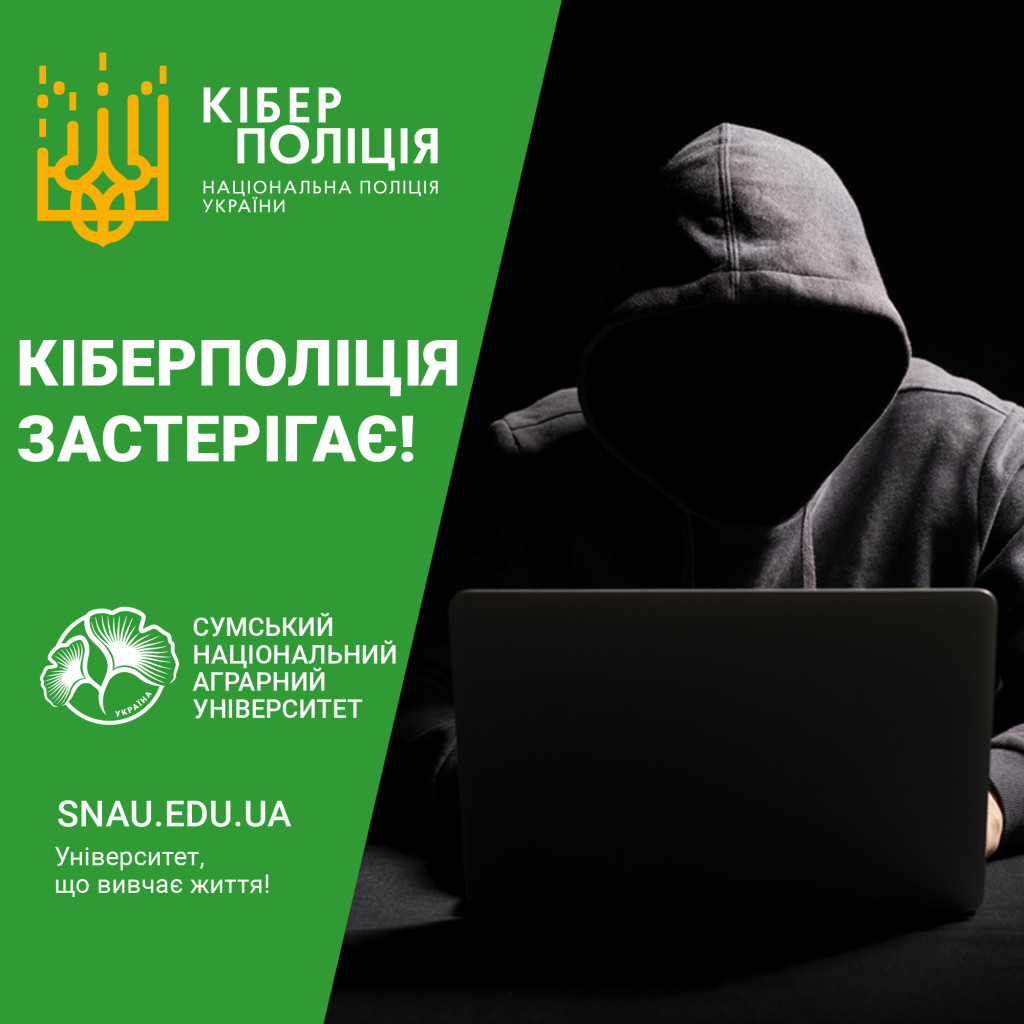 How not to get caught by a scammer? How not to lose money? How to check a bank employee who calls for additional private information? How to recognize a fraudulent scheme?
Cyber police warns and educates! Do not become a target of a scammer – remember the rules!
Five things you can do to protect yourself from scammers:
Be vigilant and careful;
Do not transfer funds to an unverified person;
Avoid fake pages in social networks;
Do not disclose your personal data;
Find information about fraudulent schemes on the official website of the cyber police: https://cyberpolice.gov.ua/.
Did a bank employee contact you? Remember 7 facts:
A real bank employee does not ask to send funds;
Only scammers insist on payment by money transfer or cryptocurrency;
The bank employee does not need information about your card account;
Never give information about your accounts to the caller;
Do not tell anyone the temporary passwords that come in SMS messages! Disclosure of this information will result in loss of funds;
Do not follow the links! Do not click on links sent to you by a "bank employee";
Do not perform any actions in ATMs or terminals. The bank employee does not provide instructions on actions in ATMs or terminals.
6 signs of a phishing email:
The appeal to you is automatically generated;
The sender's e-mail is not official;
The letter contains a request to provide personal data;
Buttons with a hyperlink to a fake site are available;
Unknown attachments are added;
There are grammatical errors in the text.
Don't become a victim!
Protect. Always protect your identity. Never share personal information.
Refuse. Trust your instincts. If you received a suspicious email, delete it. If you doubt the legitimacy of a phone call from a stranger, hang up.
Report. By reporting the fraud, you provide police with the information they need to stop the criminal activity of scammers and prevent others from becoming victims of phishing.
Basic rules from the cyber police:
Be alert when receiving calls from unknown numbers.
Do not share card account details or online banking passwords. Bank employees never ask for such information.
Don't trust a caller just because they know personal information about you. Scammers can find it online.
Do not transfer funds at the request of the person calling. Bank employees will never ask you for this.