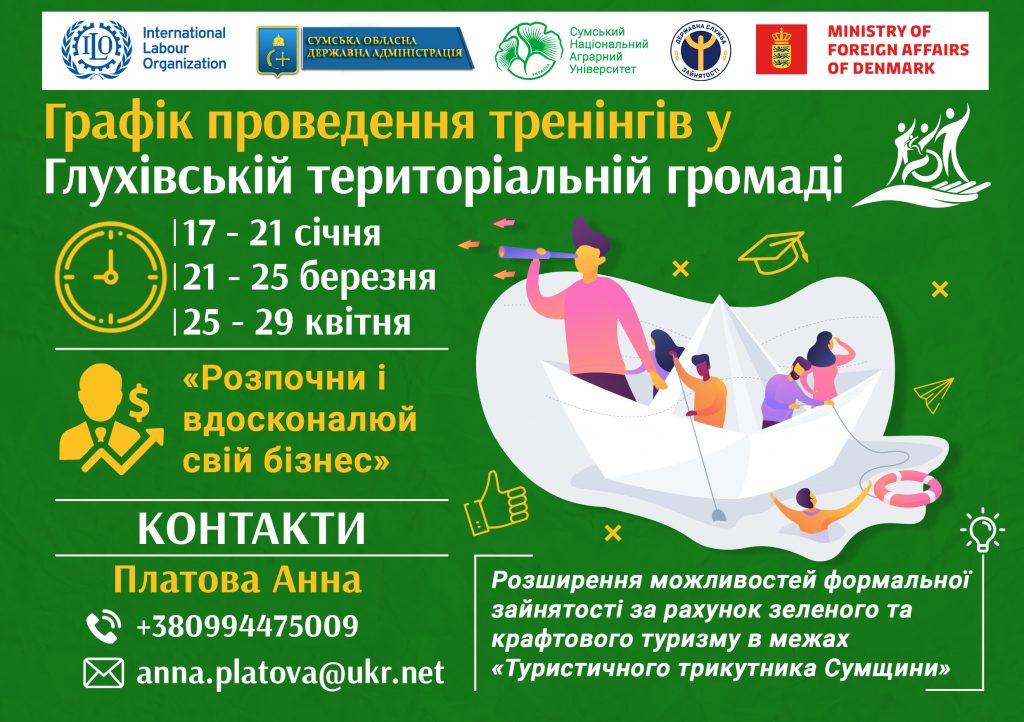 Trainings within the project "Expanding Formal Employment Opportunities through the Development of Green and Craft Tourism within the "Tourist Triangle of Sumy Region" will teach how to determine the direction of business and implement your plan correctly, how to implement financial planning, how to select the necessary staff and environmental friendliness.
The training program includes the following topics:
✓ Types and areas of business;
✓ Business idea;
✓ Sources of business ideas;
✓ Business plan;
✓ Marketing;
✓ HR-management;
✓ Procurement;
✓ Calculation of cost;
✓ Financial planning;
✓ Starting capital;
✓ Business opportunities.
Requirements for training participants:
– be registered and live in one of the project partner-communities (Hlukhivska, Krolevetska, Putyvlska, Novoslobidska, Esmanska);
– be registered with the Employment Service as unemployed or a job seeker.
To participate in the trainings, students need to fill in the registration form by following link http://surl.li/bacof.
According to the results of the training, participants presenting promising business ideas will be able to participate in the competition and receive financial support in the amount of $3000 for the purchase of equipment.