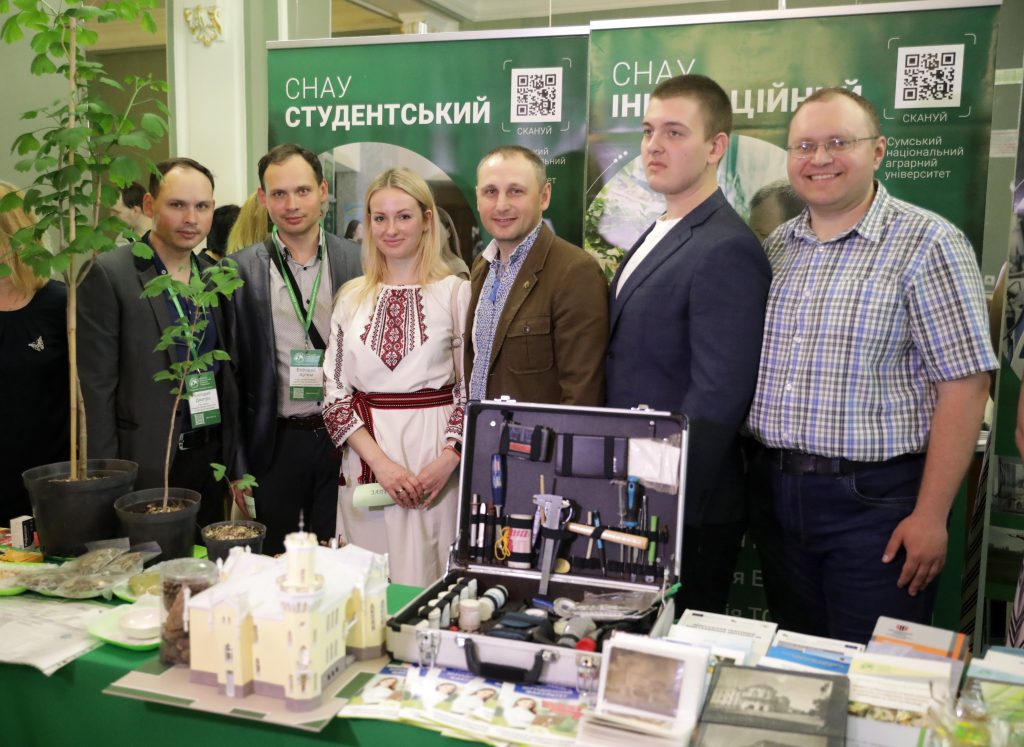 Science is the driving force of humanity, engine of progress, evolution and discoveries.
One of the main areas of activity of the Sumy National Agrarian University is applied scientific developments used by enterprises and organizations for the development of the country's economy. 370 candidates and 101 doctors of science working at departments and in 12 modern scientific laboratories made a significant contribution to science by participating in the creation of an aboriginal breed of cattle, 6 varieties of sunflower, 36 varieties of potatoes, 1 variety of quinoa, 5 immunomodulators, 19 antimicrobials drugs, 6 disinfectants and much more.
Today, all faculties of Sumy NAU took part in the celebration of Science Day at the regional level.
The Faculty of Veterinary Medicine demonstrated drugs that are developed in a modern scientific laboratory. SNAU scientists develop a full range of environmentally friendly products. Some drugs can be used even on people.
The Faculty of Agricultural Technologies and Natural ResourceManagement showed off new varieties of grain crops, quinoa, potatoes and cucumbers.
A2 milk became the highlight of the faculty of Biology and Technology.
The Faculty of Engineering and Technology showed a device for measuring CO2 emissions from the soil, methods of forming the surface layers of parts, and virtual reality glasses.
During the official part, the head of the Sumy Regional State Administration – the head of the Sumy Military Administration, Volodymyr ARTIUKH, congratulated the scientists on the holiday and noted that the topic of defense is today a priority even in the scientific field.
During the celebrations SNAU scientists were honored with various awards for effective activities and scientific developments: V. TARELNYK, A. BUTENKO, S. YAROSCHUK, O.KYSTERNA.
The results of "Science for the safety and sustainable development of the Sumy region" project were also summarized. The winner of the competition was the associate professor of the Department of Transport Technologies O. SOLARYOV.
We congratulate the scientists on their professional holiday!
We wish new discoveries for the benefit of our native university, Ukraine, the world! Do not stop at what you have achieved! Agrarians will save the country!