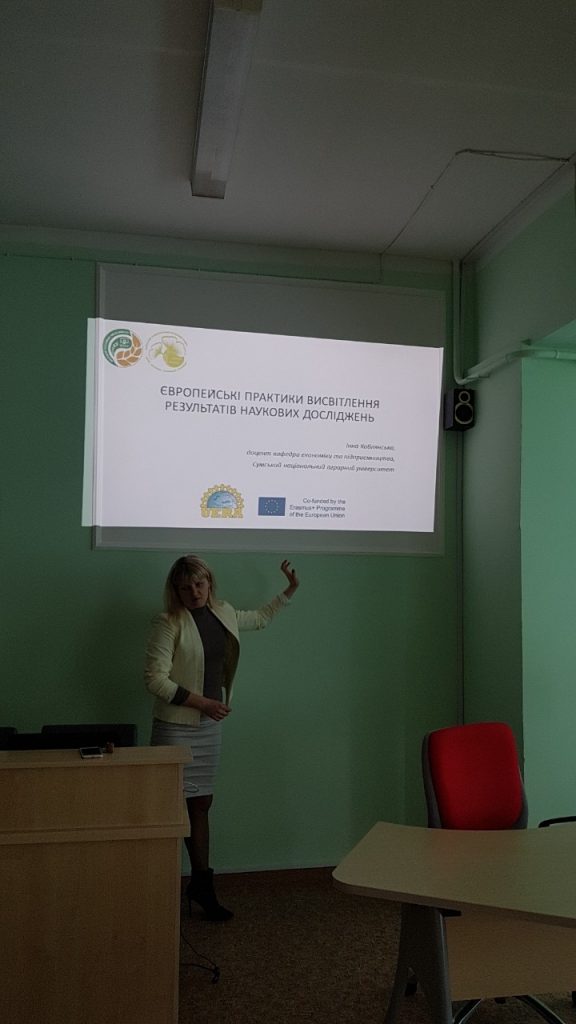 March 10, Sumy National University held a methodical seminar "European Practices of Science Results Research" (sharing the experience gained during internships in the framework of the III Winter School of Ukrainian Association of Education Researchers, "European Indicators of Science Results Research", January 21 – February 1, 2020, Lutsk, LNTU). The event was held within the framework of the European Union Erasmus + and Higher Education Capacity Building project / Jean Monnet "European Educational Quality Indicators to Empower Education in Ukraine" (No. 587032-EPP-1-2017-1-UA-EPPJMO-SUPPA).
During the event, Inna Koblianska, the Associate Professor of the Department of Economics and Entrepreneurship of Sumy National Agrarian University made a presentation. The speaker focused on such topical issues of the modern researcher's work, as: requirements for academic works publishing, the ability to publish the results of scientific research in Web of Science and Scopus indexed journals, digital "assistants" of the modern scientist.
During the event, participants got acquainted with the Directions of UAER's activity and were consulted on involvement in the projects of UAER and Erasmus +. More than 20 lecturers and young researchers from Sumy National Agrarian University attended the event.